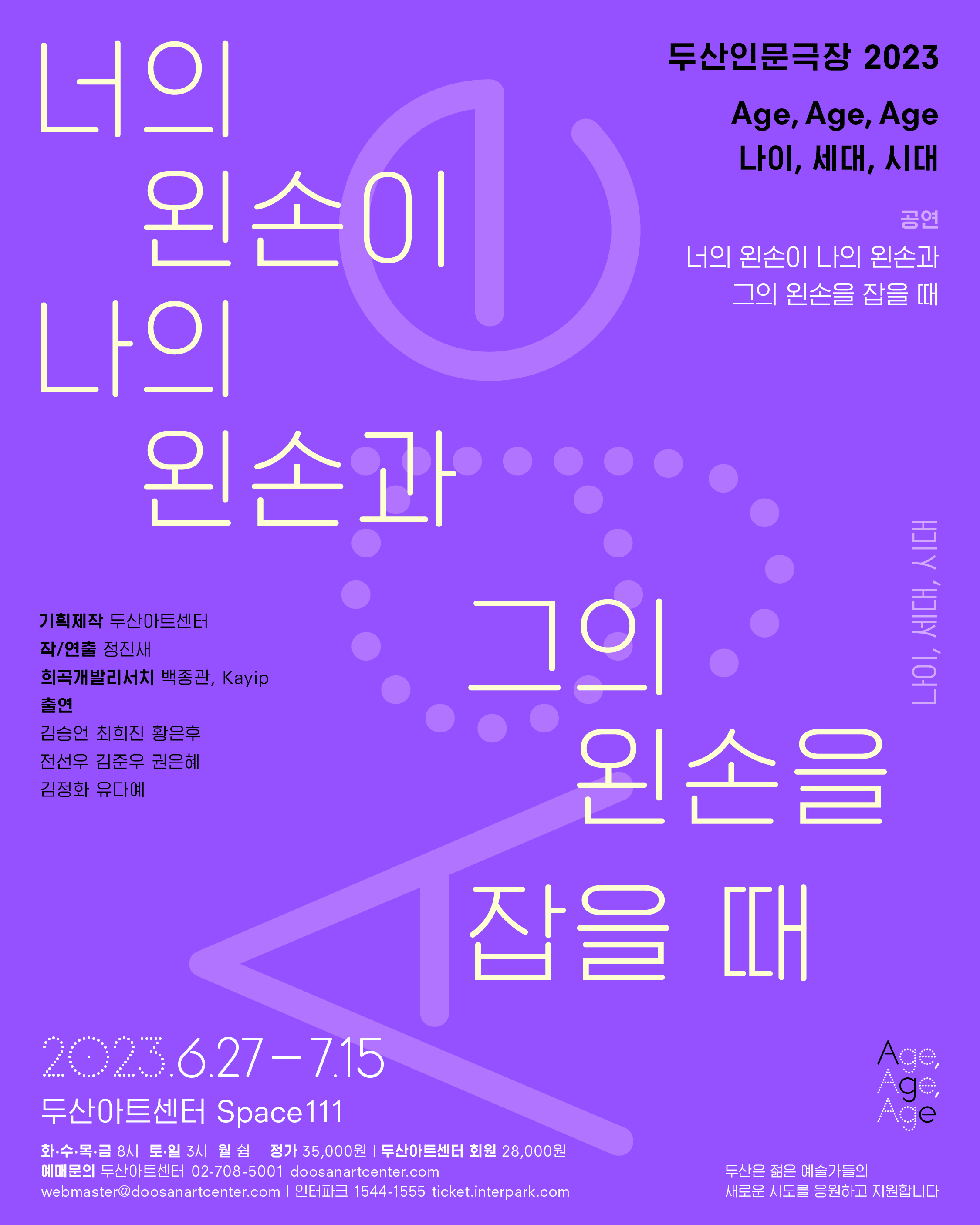 Play
When Your Left Hand Holds My Left Hand and Their Left Hand
DOOSAN Humanities Theater 2023: Age, Age, Age
Jun.27.2023 ~ Jul.15.2023

Space111
Thur-Fri 8pm / Sat-Sun 3pm

35,000won

Over 14 age

120min
DOOSAN Humanities Theater
DOOSAN Humanities Theater brings together sociological, humanities and artistic imagination on humans and society. Each year, a theme is selected to be discussed in a variety of ways, including performances, exhibitions, lectures, and artist talks. Past subjects include 'Big History', 'The Age of Distrust', 'Exception, Mutation, or Abnormality on the Borders', 'New Imagination on the Extended Territory', 'Conflict', 'Altruist', 'Apartment Nation', 'FOOD', 'Fairness'. The theme for 2023 is "Age, Age, Age".
Age, Age, Age
COVID–19 has rekindled discussions about the elderly, the aging population has long been an issue in our society.
These changes challenge existing rules. Balance and harmony seem to be creating divisions and conflict. The traditional belief that older people's wisdom contributes to the community and that looking after our elders brings prosperity to our descendants, no longer seems valid. The generational conflict between the old and the young is not temporary, but rather will pose problems for a long time to come. Aging is an important subject not only at a personal level but also for society at large.
For as long as we are alive, age will always be an issue. At a certain point in our development, we long to be older, while at other times, we want to avoid it. The complex nature of aging arises solely because it is the sum of our objective values and subjective experiences. In this regard, "age" continues to "aging" and "generation" and expands to "population," "caregiving," and "technology." This realm cannot exclude "conflict" and "social problems." DOOSAN Humanities Theater 2023 intends to evaluate age and find wisdom.
When Your Left Hand Holds My Left Hand and Their Left Hand
When Your Left Hand Holds My Left Hand and Their Left Hand is full of satire, fear, and science fiction imaginations about the crisis of the Anthropocene. Jinsae Jeong, winner of the Baeksang Arts Awards' Best Short Play, wrote and directed the play while Jonggwan Baek and Kayip conducted joint research to develop the script.
The world is burning in a fire that has been raging for 40 days. Eight ships launch from Earth to protect and evacuate animal, plant, and human species. Each ship carries life forms that will be stored in the Svalvard Seed Vault in Norway for future generations. However, since not all of them can be stored in the seed vault, the creatures must compete for a spot. Meanwhile, in the ship named Pando, which is bound from East Asia to Europe, Nobel Prize Laureate May, who grew up in Korea's science orphanage, botanist April, and October from the US Air Force, meet and enter a game of survival.