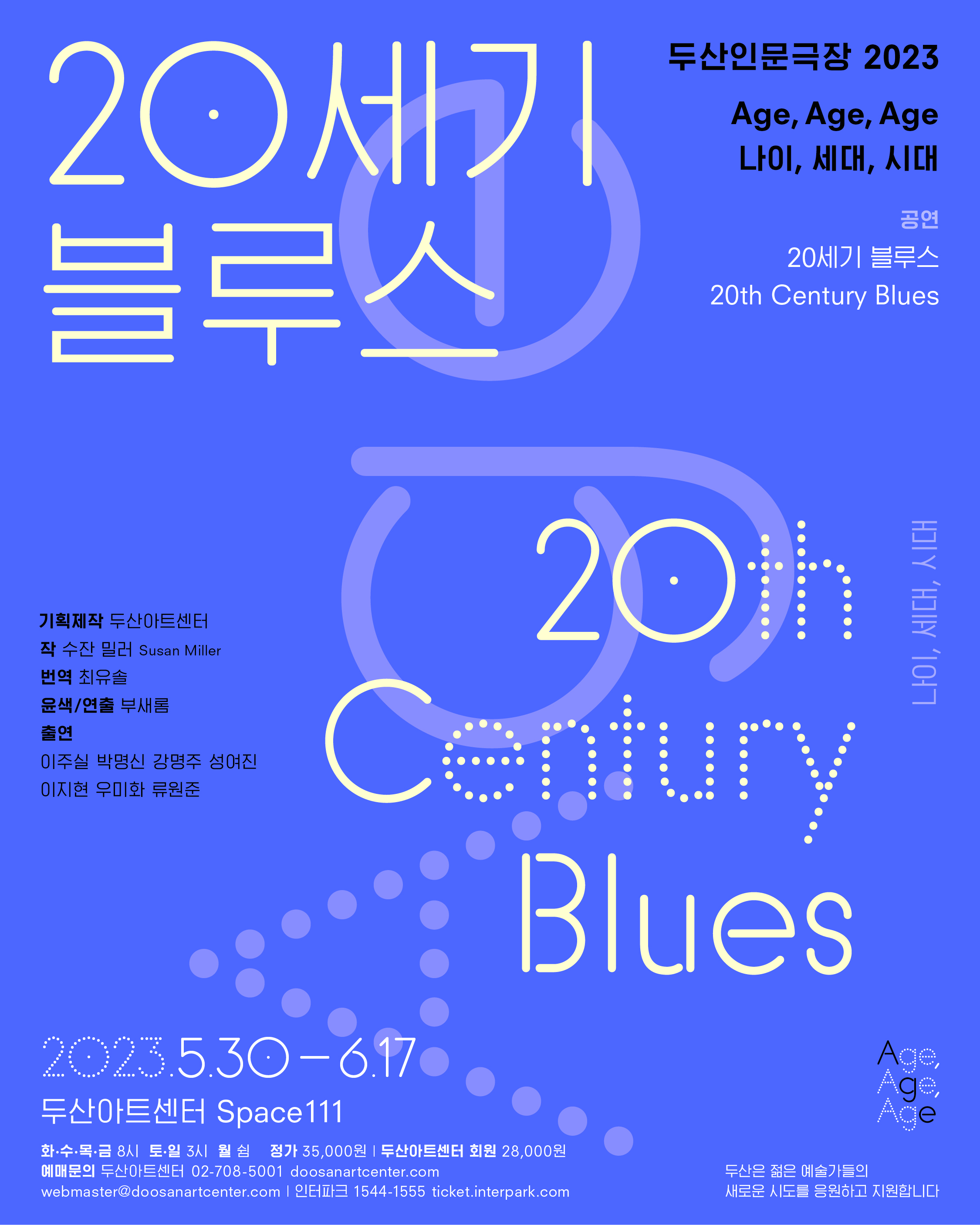 Play
20th Century Blues
DOOSAN Humanities Theater 2023: Age, Age, Age
May.30.2023 ~ Jun.17.2023

Space111
Thur-Fri 8pm / Sat-Sun 3pm

35,000won

Over 14 age

110min
DOOSAN Humanities Theater
DOOSAN Humanities Theater brings together sociological, humanities and artistic imagination on humans and society. Each year, a theme is selected to be discussed in a variety of ways, including performances, exhibitions, lectures, and artist talks. Past subjects include 'Big History', 'The Age of Distrust', 'Exception, Mutation, or Abnormality on the Borders', 'New Imagination on the Extended Territory', 'Conflict', 'Altruist', 'Apartment Nation', 'FOOD', 'Fairness'. The theme for 2023 is "Age, Age, Age".
Age, Age, Age
COVID–19 has rekindled discussions about the elderly, the aging population has long been an issue in our society.
These changes challenge existing rules. Balance and harmony seem to be creating divisions and conflict. The traditional belief that older people's wisdom contributes to the community and that looking after our elders brings prosperity to our descendants, no longer seems valid. The generational conflict between the old and the young is not temporary, but rather will pose problems for a long time to come. Aging is an important subject not only at a personal level but also for society at large.
For as long as we are alive, age will always be an issue. At a certain point in our development, we long to be older, while at other times, we want to avoid it. The complex nature of aging arises solely because it is the sum of our objective values and subjective experiences. In this regard, "age" continues to "aging" and "generation" and expands to "population," "caregiving," and "technology." This realm cannot exclude "conflict" and "social problems." DOOSAN Humanities Theater 2023 intends to evaluate age and find wisdom.
20th Century Blues
20th Century Blues, written by American playwright Susan Miller, is a story about aging as told by four women in their 60s. Since befriending each other in their younger days in prison, the four women have been meeting once a year for a photo shoot initiated by Danny the photographer. One day, Danny tells them that she would like to include their photos in her retrospective. The four friends, who had always been close, clash over the fear of being judged and observed by strangers. When the play premiered in 2016, it was praised for its shrewd observations and vivid portrayal of women that people fail to see. The play makes us reconsider what it means to age, while questioning society's perception of older people and their roles.