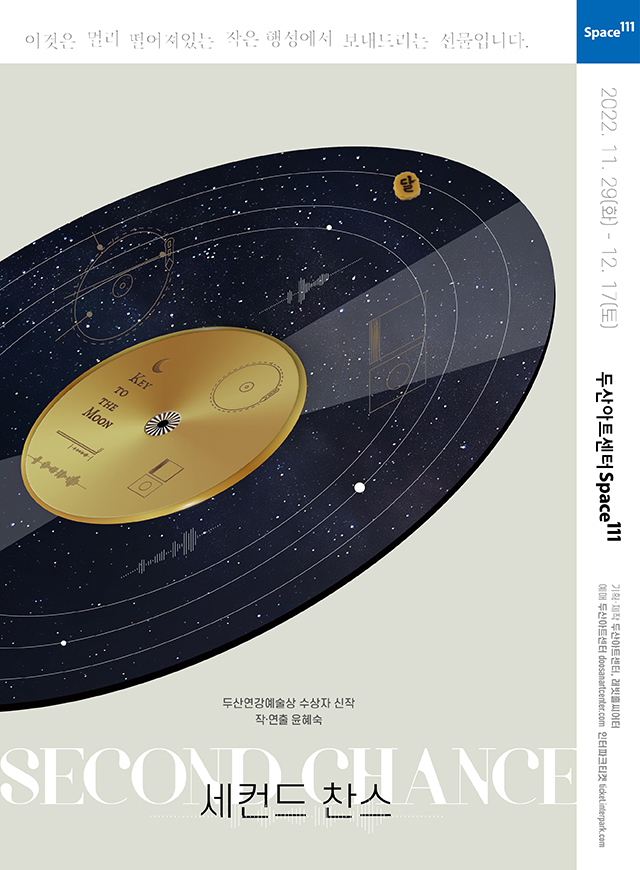 Play
SECOND CHANCE
Recipient of the 11th DOOSAN Yonkang Arts Awards(2020)
Nov.29.2022 ~ Dec.17.2022

Space111
Tue-Fri 8pm / Sat-Sun 4pm

35,000won

Over 14 age

75min
SECOND CHANCE

Youn Hyesook, the winner of the 11th DOOSAN Artist Award in the performing arts category, employs her own
unique style to materialize onstage the stories of our lives in the contemporary moment, which is the subject of her concentrated attention. Youn's works swell with so much energy that the theater feels like it would burst, but can transition at any moment into a
hushed atmosphere that calls for cool rational contemplation. Thus critics have said of Youn's works that they make one continually 'think'.
SECOND CHANCE begins with a hypothetical scenario in which the artist's father, who had been alive and healthy, suddenly departs this world.
If we were given a second chance to prepare for a separation, how would our present moment change? Musing on her father's habit of saying that
he wanted his remains to be sent out
to outer space in a 'cosmic funeral',
the work portrays the process of the artist constructing a 'Key to the Moon',
a Golden Record of their own to accompany her father's ashes.