Kyoungtae Kim

Bumping Surfaces
Sep.08.2021 ~ Oct.16.2021

DOOSAN Gallery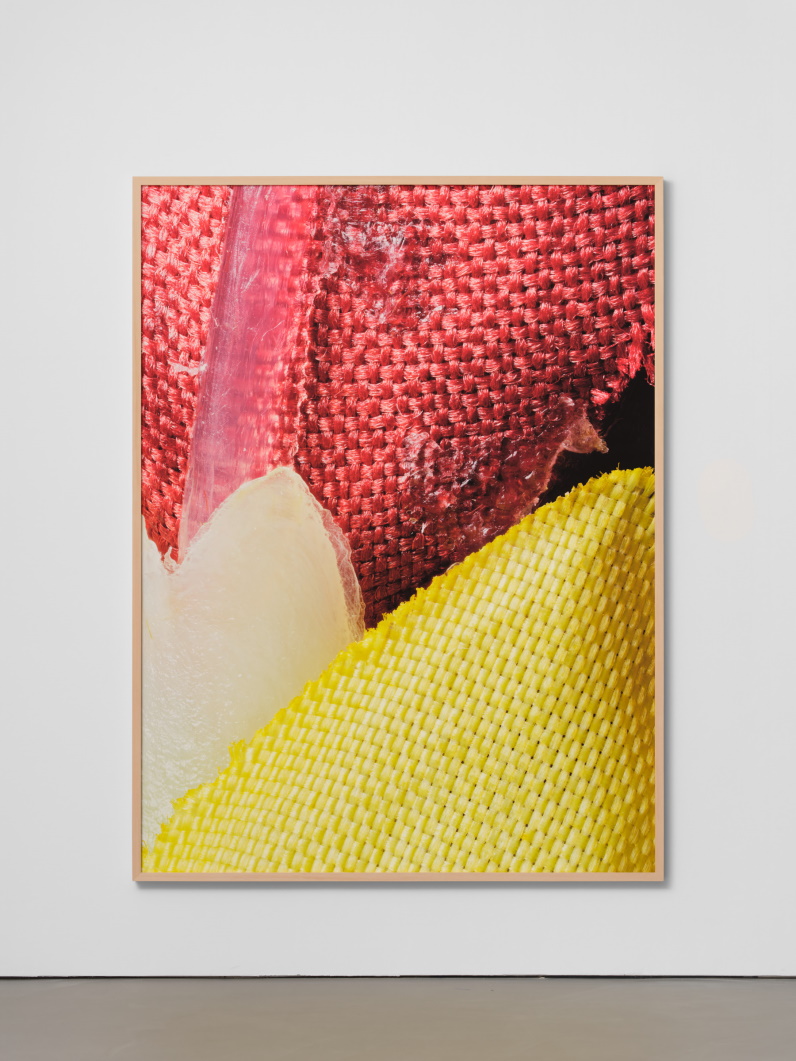 Kyoungtae Kim
Bumping Surfaces - Amaryllis C
2021 Archival pigment print 200 x 150 cm
Tuesday-Saturday 11:00~19:00 / Closed on Sunday and Monday
DOOSAN Gallery Seoul: 15, Jongno 33-gil, Jongno-gu, Seoul, Korea
Tel. 02-708-5050
DOOSAN Gallery presents Bumping Surfaces, a solo exhibition of Kyoungtae Kim, the winner of the 11th DOOSAN Artist Award (2020) from September 8th through October 16th, 2021. With photography as his principal medium, Kim captures familiar objects, such as stones, books, and metal nuts, in an unconventional manner using focus stacking.* In this exhibition, he focuses on artificial flowers as his photographic subjects, revealing their multifarious facets and proposing a new mode of observation to viewers.

This exhibition showcases about 10 large-scale photographs of flowers. Whether it be the split edge of a petal that exposes the weave of its synthetic fabric, a patch of a petal where improper dying has left small red dots, or a lump of dried glue at the joint where a plastic stem meets a flower bud, each frame patently captures and conveys the artificiality of the subjects. As with an illustrated informative book on flora, however, Kim refuses the flowers any valuation or internal interpretation. His lens gazes at the subjects up close, yet maintain an objective view, as if to apprehend their resolution at a level undetectable by human eyesight. The artist, who has a keen eye for plants, says that he became intrigued with the act of examining the various details of artificial flowers as interior accessories made to emulate natural objects.

Meanwhile, the context of Kim's approach—photographing an object with every part of the frame in focus, then printing it at a larger-than-life scale to disturb the onlooker—becomes clearer by looking through his past works. In his series On the Rocks (2013), Kim gathered various textured stones (mostly no larger than pebbles) and focalized on the detailed grains and forms of the natural minerals within them, presenting the images at a scale over 20 times their actual size. His later series Texture Mapping (2019) addresses faux marble sheets, or more accurately, the application of the deceptive material onto furniture and how effortlessly it can look like real marble. Bumping Surfaces (2021), his latest series, expands on this idea by tenaciously tracing the superficial textures of "synthetic-natural" objects, making viewers question their established perception of things.

Bumping Surfaces, also the title of this exhibition, points to the visual collision Kim has experienced in the thorough, time-intensive process of examining mid-sized objects and materializing them as photographs; at the same time, it alludes to his fascination with the "tensible potential harbored in the surface of an image," which allows for a scene to be transferred into a camera frame and monitor screen, then output as a printed photograph. Beyond identifying the "bumping" of visible elements in the definitively framed image of an artificial flower, viewers will be able to experience visual joy by taking in the unfamiliar textures of the unnoticed parts of familiar objects, navigating the attraction and repulsion that occurs amongst the disparate senses. Through Kim's attitude of observation that does not tolerate the omission of any part of an object's visible surface, we are bound to reflect on what we see, how we see it, and furthermore, how we should receive it.
Kyoungtae Kim (b. 1983) received his B.A. in Visual Communication Design from Chung-Ang University and M.A. in Master of Art Direction from École cantonale d'art de Lausanne(ECAL). He has held solo exhibitions at einBuch.haus(2021, Berlin), Whistle(2019, Seoul) and has participated in numerous group exhibitions at venues including KF Gallery(2021, Seoul), F1963(2020, Busan), WESS(2020, Seoul), Wooran Foundation(2020, Seoul), Oil Tank Culture Park(2019, Seoul), HITE Collection(2019, Seoul), Suwon Ipark Museum of Art(2019, Suwon), Nam-Seoul Museum of Art(2019, Seoul), 2018 Venice Biennale Korean Pavilion(2018, Venice), National Museum of Modern and Contemporary Art(2017, Seoul), Kukje Gallery(2016, Seoul), etc.
* Focus stacking is a photographic technique that allows for the focus to be distributed to all parts of the photographed image. The final print is achieved by taking 200 to 300 still shots of the same subject using near, far, and mid-view focus, then combining them into a single frame using a post-editing program such as Photoshop.